Speed control
The 2301A Speed Control controls the speed or load of diesel or gas engines, or steam or gas turbines. The unit provides control in the isochronous mode, with droop available through an externally wired potentiometer. The isochronous mode is used for constant speed of the controlled prime mover as long as it is able to provide power to satisfy the load.
Compatibility
The 2301A Speed Control is compatible with Woodward SPM-A synchronizers, load sensors, and other power generation controls. These controls can be added to the system at any time, using the auxiliary or SPM inputs to the 2301A Speed Control.
Different models
The 2301A Speed Control is available for forward or reverse-acting applications, and can be used with single or tandem actuators.  High voltage models accept 88 to 132 VAC or 90 to 150 VAC and low voltage models accept 10 to 40 VDC supply for control power.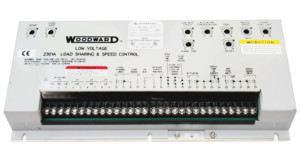 – Low- and highvoltage models
– Idle and rated speed settings, Idle to rated speed linear ramp
– Automatic startfuel limiting
– Failed speed sensor detector
– EU Directive Compliant
– Speed range: Selection of the following ranges by means of an external switch (500 to 1500 Hz, 1000 to 3000 Hz, 2000 to 6000 Hz, 1000 to 12000 Hz)
– Speed detection: 1 to 30 VCA. The input impedance is 1 kΩ at 1 kHz
– External speed reference: 4-20 mA or 1-5 VCC proportional input. The speed reference is proportional to the input signal applied
– Weight: Approximately 1.1 kg. May depend on the model to a small extent
– Speed range in normal operation: Between ± 1/4 and 1% speed
– Load distribution: ± 5% of the maximum load with corresponding speed settings and with a load sensor for generator
– Operating temperature: -40 to +85 ° C
– Storage temperature: -55 to +105 ° C
2301A Speed Controls are also available with 4–20 mA speed-setting input (see product specification 02301).
To read the technical documents, please click on the links below:
To contact customer support, please call +33 (0) 492 38 88 20 or send an email to
support@dsf-tech.com
.