APECS® 0300
APECS® 0300 Series Actuators Provides proportional fuel control for construction, industrial and agricultural equipment. 3.00″ diameter spring-return actuator, pull or push models, three spring types available. This design minimizes heat buildup, resulting in more consistent force and improved position repeatability.
Easy-to-use
Actuators are easily installed by mounting near the fuel system and direct connecting to the fuel control rod or lever. In most installations, the normal rotary-to-rotary connection is eliminated, resulting in a more trouble-free and accurate control system.
Maximum control
The APECS 4500 electronic controller provides maximum control and optimal engine performance. By adjusting the fuel control lever with a Woodward proportional actuator the 4500 system controls and limits engine speed. By adjusting to load, temperature and fuel quality it optimizes your engine's operating efficiency.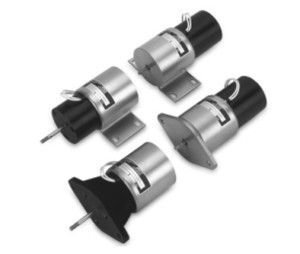 – Pull or push actuation (Model 0300 pull, Model 0300P push),
– Flange or base mount,
– Failsafe operation using spring to return actuator to minimum fuel position,
– Corrosion resistant, plated steel housing and mounting base/flange,
– Precise engine speed control when used with APECS electronic controllers,
– (See Controllers section, pages 74-83, for ordering information.),
– Variety of mounting styles, plungers, terminations, and springs available.
– Control capabilities include engine/ground speed control, rate of acceleration control, drive-by-wire operation, variable speed operation and power takeoff operation,
– Two user-selectable auxiliary outputs can be configured for glow plug control, autocrank control, engine shutdown, remote diagnosis and mode lamp,
– Calibration is simple using ACT, Woodward's proprietary software. The controller can be calibrated on any IBM-compatible PC, allowing for easy customization and re-programmability,
– Universal speed input permits use with magnetic pickups, coil-type spark ignition systems, magneto spark ignition systems and Hall Effect sensors,
– Internal diagnostics monitor engine operation and the status LED indicates malfunctions through coded flashing. Built-in engine protection capability can monitor engine coolant and oil pressure,
– Sealed, waterproof connectors assure reliability in harsh environments.
APECS 3000 controllers are well-suited for generator sets, compressors/ pumps, utility vehicles and construction equipment. The APECS 4500 controller is integrated into commercial and construction vehicles, and industrial engine systems and compressors by original equipment manufacturers and industrial plants.
To read the technical documents, please click on the links below:
Technical description
Installation manual
User manual
To contact customer support, please call +33 (0) 492 38 88 20 or send an email to support@dsf-tech.com.