Battery charger BL18 & BL20
BL18
If applied as battery charger, the BL18 serves to either charge or to maintain closed or gas-proof 24 V leadacid batteries in full charge condition by providing the facility to simultaneously supply consumers with DC current (parallel operation). When the BL18 is operated in parallel with a battery or with another consumer and the battery has to be disconnected, e.g. for maintenance or exchange, the supply of this consumer will be backed-up to the battery charger's nominal capacity.
BL20
As charging unit it is used for charging, as well as for maintaining the fully charged condition of of 12 V or 24 V Pb- or NiCd-batteries. Simultaneous supply of DC-consumers (parallel operation) is possible. Operated in parallel with a battery or other consumer, the BL20 guarantees the supply of the consumers up to the rated output of the charging unit even after disconnection of the battery, for example during maintenance or for exchange.
Easy-to-use
The BL20 is short-circuit proof so that it is not necessary to shut down the charging unit during operations which could cause nearly a short-circuit (for instance start of a diesel engine).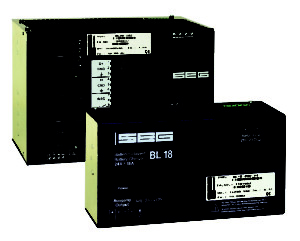 The BL18 is a versatile direct voltage supply unit that can be applied both, as battery charger and as stabilized power pack supply unit.
– The BL20 is a widely applicable DC
– Supply unit which is used as battery charger or also as stabilized power supply
Thanks to the unit's short-circuit capacity, it must not be switched off in case of short-circuit type occurrences, such as e.g. start of an Diesel engine or similar situations. As stabilized power supply unit, the BL20 supplies connected consumers with a stabilized d.c. voltage which is adjustable in the range of 11.5 ~ 15.5 VDC (Pos. 12 V) or 23 VDC to 31 VDC (Pos. 24 V).
To read the technical documents, please click on the links below:
Technical description
Installation manual
User manual
To contact customer support, please call +33 (0) 492 38 88 20 or send an email to support@dsf-tech.com.