Battery charger DSE 9474/9484
DSE 9474/9484
The DSE 9474 and DSE 9484 are intelligent battery chargers that can be programmed for different charging curves to maximise the life of the battery. They are programmed using the user-friendly DSE Configuration Suite PC software.
Durability & reliability
The chargers are mounted on the chassis using the fixing holes that are built into the case. The chargers' stylish design includes three coloured LEDs to indicate charging status and fault conditions. The chargers do not include any moving parts to give added durability and reliability.
Easy-to-use
They will also continue to operate during cranking and running. Multiple chargers can be linked together to provide a larger current output.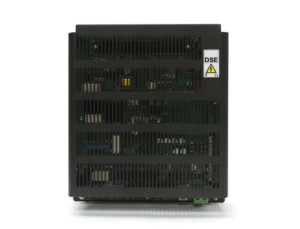 – CAN interface,
– Intelligent three & four stage charging profiles,
– 12 volts & 24 volts configurable, adjustable current limit,
– Manual & automatic boost.
– Allows for an efficient and flexible network design,
– Provides safe and complete charging and charge maintenance of various battery types,
– Flexibility and cost effectiveness of one charger to suit different voltage types,
– Output current can be adjusted to suit alternative battery sizes and prevent overcharging on custom curves.
– Overall size: 240 mm x 263 mm x 89 mm (9.4" x 10.4" x 3.5")
– Weight: 2.5kg
The charger continues to operate during cranking and running and accepts multiple AC voltage connections.
To read the technical documents, please click on the links below:
Technical description
Installation manual
User manual
To contact customer support, please call +33 (0) 492 38 88 20 or send an email to support@dsf-tech.com.