Battery charger DSE 9130/9150
DSE 9130/9150
The 2 Amp, 3 Amp and 5 Amp Battery Chargers have been designed to be permanently connected to a battery, keeping it charged to maximum capacity. The chargers can be either mounted via DIN rail or to the chassis, using the fixing holes that are built into the case.
Stylish design
The chargers stylish design includes a LED indicator on the front that shows when the charger is in a normal or overload condition. The chargers will continue to operate during cranking and running. All chargers can accept multiple AC voltage connections.
High-grade components
The DSE battery chargers are expertly designed using high-grade components and capacitors allowing the units to function more efficiently, providing a longer and more reliable life-span than other chargers in their class.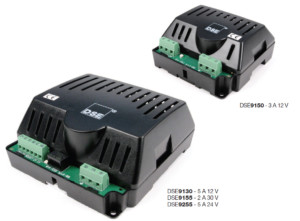 – Constant current/constant voltage
– Automatic float mode return
– Low output ripple
– Reverse polarity, short-circuit and current limiting protection
– Provides flexibility for operation with various battery type technologies
– Prevents overcharging battery damage
– Safe charging of both sealed and vented battery types
– Prevents damage to the charger and battery, to provide secure and reliable operation
– Overall size: 136 mm x 140 mm x 63 mm (5.4" x 5.5" x 2.5")
– Weight: 0.5kg
Their in-built robustness makes them ideal for the rigours of a wide variety of markets including heavy and light industrial environments.
To read the technical documents, please click on the links below:
Technical description
Installation manual
User manual
To contact customer support, please call +33 (0) 492 38 88 20 or send an email to support@dsf-tech.com.