Battery charger DSE 9450/9452
DSE 9450/9452
The DSE9450 and DSE9452 are intelligent battery chargers that can be programmed for different charging curves to maximise the life of the battery. All chargers are programmed using the user-friendly DSE Configuration Suite PC software.
Stylish design
The chargers are mounted on the chassis using the fixing holes that are built into the case and via a supplied bracket. The chargers' stylish design includes three coloured LEDs to indicate charging status and fault conditions.
Easy-to-use
Multiple chargers can be linked together to provide a larger current output.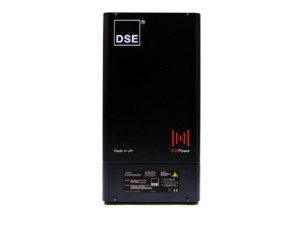 – Intelligent two, three and four stage charging profiles,
– Remote voltage sensing to compensate for voltage drop,
– Adjustable current limit,
– Can be used as a battery charger, power supply or both at the same time.
– Fully flexible to maximise the life of the battery,
– Suitable for a wide range of battery types,
– Switched mode design and charge fail output,
– Minimum 90% efficiency throughout full operating range.
– Overall size: 523 mm x 275 mm x 131 mm (20.2" x 10.3" x 4.9")
– Weight: 8.5 kg
The DSE9450 & DSE9452 can be permenantly connected to battery and AC supply. No need to disconnect through high load conditions.