C6200
C6200 is a generator controller comprising auto synchronizing, load sharing and versatile interfacing to speed governors and AVRs in one single unit. C6200 has been developed to complement the various solutions for synchronizing and load sharing available from the SELCO T-Line product range.
Simple installation
Moreover, the C6200 is built on a state-of-the-art technology platform introduced with the SELCO SIGMA system, offering a variety of additional features and possible interfacing to external control. Simple installation and easy confi guration are the SELCO qualities on which C6200 are based.
Designed
C6200 is designed for installation in electrical switch board panels. The sturdy aluminium casing furnishes clear LED indication and easy accessible connection terminals.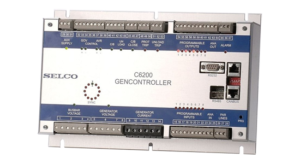 C6200 is compatible with the S6500 user interface module of the SIGMA system, and the dedicated C6250 display unit.
To read the technical documents, please click on the links below:
To contact customer support, please call +33 (0) 492 38 88 20 or send an email to support@dsf-tech.com.