DSE7410
The DSE7410 is an Auto Start Control Module and the DSE7420 is an Auto Mains (Utility) Failure Control Module suitable for a wide variety of single, diesel or gas, genset applications. A sophisticated module monitoring an extensive number of engine parameters, the DSE74xx will annunciate warnings, shutdown and engine status information on the back-lit LCD screen, illuminated LED, remote PC, and audible alarms.
Compatibility
The module includes RS232, RS485 & Ethernet ports as well as dedicated terminals for system expansion. The DSE7400 Series modules are compatible with electronic (CAN) and non-electronic (magnetic pick- up/alternator sensing) engines and offer a comprehensive number of flexible inputs, outputs and extensive engine protections so the system can be easily adapted to meet industry requirements.
Configuration
The modules can be easily configured using the DSE Configuration Suite Software. Selected front panel editing is also available.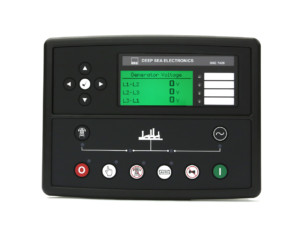 – CAN and magnetic pick-up sensing
– Configurable inputs/outputs (11/8)
– Fuel usage monitor and low level alarms
– Remote communications (RS232, RS485, Ethernet, Modbus, RTU/TCP)
– Load switching, load shedding & dummy load outputs
– Configurable event log (250)
– Power monitoring (kW h, kVAr, kv Ah, kV Ar h), reverse power protection, kW overload protection
– Makes the module ideal for standard and electronic engine applications
– Provides multiple installation options
– Tracks the amount of fuel being used and sounds an alarm if over/under fuel use is detected
– Provides secure and simple off site monitoring. All ports are continuously active
– Provides access to historical alarms and operational status
– Ensures additional applications are easily integrated into the system
– Allows load options and dummy load requirements to be independently controlled
Those modules provide complete user-friendly configuration and easy-to-use high-level system control & monitoring. It ensure the control module can be used with the latest in modern electronic engine technology.
To read the technical documents, please click on the links below:
Technical description
Installation manual
User manual
To contact customer support, please call +33 (0) 492 38 88 20 or send an email to
support@dsf-tech.com
.