DSE106
The DSEA106 Digital Automatic Voltage Regulator (AVR) is designed to regulate the output voltage of an AC alternator. The DSEA106 is supplied by either a stator auxiliary winding or a shunt system taking power from the output windings.
Easy-to-use
The DSEA106 eliminates the complexities involved with analogue AVR designs. Analogue AVR designs can be over sensitive to changes in temperature which affects stability whereas the DSEA106 AVR maintains a smooth, stable regulated AC output voltage regardless of the electrical load connected.
Simple interface
The DSEA106 is simple to install and set up using either the DSE Configuration Suite PC Software and the DSE814 configuration interface or five onboard potentiometers and 4 DIP switches, combined with a status LED providing a simple user interface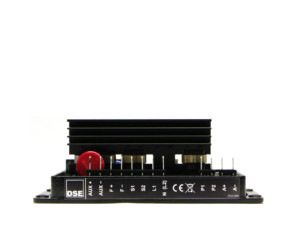 – Digital electronic design, auxiliary or Shunt Power supplies
– Soft start ramping, loss of voltage sensing protection
– Quadrature CT connection, DIP Switch selection
– Potentiometer adjustment
– Ensures a smooth, stable, regulated AC output from the alternator
– Suits a wide range of alternators, helps to minimise voltage overshoot
– Detects disconnection of the voltage sensing connections
– Suitable for synchronising and load sharing applications
Overall size: 167 mm x 109 mm x 61 mm (6.6" x 4.3" x 2.4")
The DSEA106 Digtal AVR has advanced numerous features such as soft start ramping, connection for a quadrature droop CT and the ability to perform remote voltage adjustment, making it perfect for synchronising and load sharing applications.
To read the technical documents, please click on the link below:
To contact customer support, please call +33 (0) 492 38 88 20 or send an email to
support@dsf-tech.com
.