DSE Configuration Suite Software
DSE Config Suite
The DSE Configuration Suite Software makes configuring DSE products a straightforward process.
Application
Once the module files are installed this new system gives the user the ability to switch between manual and auto update settings. Then, you will have access easily to your module configuration and monitoring parameters.
Installation
Once installed to a Windows PC, open the software, select your product and change the settings to meet your application requirements. Configurations can be saved for future use.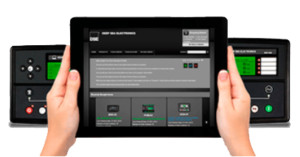 – Operating System Windows Vista, Windows XP or Windows 2000 with Microsoft TM. Net framework
– Monitor 17 inch recommended (1024 x 768 resolution)
– Communications USB are required to configure the module
– AS9U3 aluminum injection molded body and impregnation treatment
– Protective cover in PA66
– 200cm power supply cable
– Water inlet and outlet 5/8 " (16 mm)
IMPORTANT : Once installed, the software will automatically notify of module updates when available.
To read the technical documents, please click on the links below:
To contact customer support, please call +33 (0) 492 38 88 20 or send an email to support@dsf-tech.com.