DSE E800
The DSEE800 is an easy to use engine controller designed to provide flexible control with built in monitoring and protection. The DSEE800 is compatible with both electronic and non-electronic diesel engines and fully configurable for a wide range of applications such as engine driven pumps, compressors, hydraulic power packs and off highway machinery.
Configuration
Control of the application can be achieved both automatically and manually with engine start, speed and clutch control all built in. The monitoring and configuration of system variables allows the controller to start and stop the engine, increase and decrease engine speed as the output demands and program ramping for loading/unloading of the engine.
Flexibility
With the built in PLC editor the controller is fully flexible and can be adjusted to meet many different needs, providing the user with the ability to achieve special operating modes which are unique to their machine and application.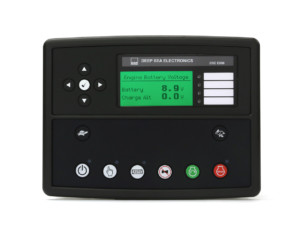 – Configurable digital inputs (11), configurable ratio metric inputs (12)
– Configurable DC outputs (4), configurable PWM (pulse width modulation) outputs (4)
– Direct governor & AVR control
– Automatic and manual speed control
– Provides multiple installation options
– Provides protocols for monitoring of the battery charging and charger status from a remote location
– Provides output control flexibility with the option to enter user-defined curves
– Eliminates the requirement for external control equipment
– Overall size: 240 mm x 172 mm x 57 mm (9.4" x 6.8" x 2.2")
– Weight: 0.88 kg
A range of comprehensive communication and system expansion options ensures that the user can extend the input and output capability and communicate with other devices or systems offering further advanced and high level use in very demanding applications.
To read the technical documents, please click on the links below:
Technical description
Installation manual
User manual
To contact customer support, please call +33 (0) 492 38 88 20 or send an email to support@dsf-tech.com.