DSE701 MKII
The DSE701 MKII controller can be user-configured for Auto or Manual Start operation using the DSE Configuration Suite Lite PC Software. Alternatively the controller can be ordered pre-configured. The DSE701 MKII offers an excellent range of engine monitoring and protection features.
Easy-to-use
The module offers inputs to monitor low oil pressure, high engine temperature and overspeed and the manual start version also has a user-defined auxiliary input. Auto Start versions also include an input option for a start signal from a remote location. When the module detects any of the above faults it will automatically shut down the engine.
Capability
The module also has the capability to monitor battery charging by utilising the WL terminal on the charge alternator. On detecting a battery charging fault, it will light the warning LED on the front panel.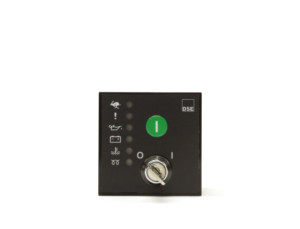 – Front panel key switch
– Configurable for use as a manual or auto start control module
– Auxiliary shutdown input (manual mode only)
– LED status indication
– Engine pre-heat & engine monitoring & protection
– Over speed protection
– Monitors battery charging status using the WL terminal on the charge alternator
– Ensures the generator can only be operated when the key is used
– Helps to reduce module variants held in stock
– Provides a simple input for a remote stop switch
– Provides instant generator operating status
– Warms the engine to a safe temperature at start-up to increase engine life
– Protects engine from long-term damage
– Provides complete user-friendly configuration and easy-to-use high-level system control & monitoring
– Overall size: 72 mm x 72 mm x 38 mm (2.8" x 2.8" x 1.5") Excludes Key Switch
– Panel cutout size: 68 mm x 68 mm (2.7 " x 2.7″)
– Weight: 0.14kg
The Auto Start version can be user-configured for Manual Start operation and the Manual Start version can be user-configured for Auto Start operation.