DSE7310 MKII
The DSE7310 MKII is an Auto Start Control Module and the DSE7320 MKII is an Auto Mains (Utility) Failure Control Module suitable for a wide variety of single, diesel or gas, gen-set applications. Monitoring an extensive number of engine parameters, the modules will display warnings, shutdown and engine status information on the back-lit LCD screen, illuminated LEDs, remote PC and via SMS text alerts (with external modem).
DSE7320 MKII
The DSE7320 MKII will also monitor the mains supply. The modules include USB, RS232 and RS485 ports as well as dedicated DSENet® terminals for system expansion. Both modules are compatible with electronic (CAN) and non-electronic engines and offer an extensive number of flexible inputs, outputs and extensive engine protections so the system can be easily adapted to meet the most demanding industry requirement.
Extensive features
The extensive list of features includes enhanced event and performance monitoring, remote communications & PLC functionality. The dual mutual standby is now available on both the DSE7310 MKII & DSE7320 MKII using RS232 or RS485 communications. This provides for a simpler and more convenient installation with more advanced features such as true engine hours balancing.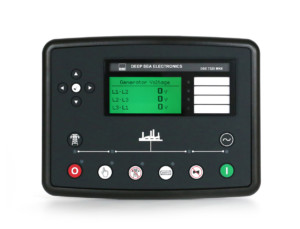 – 4-line back-lit LCD text display
– Five key menu navigation
– Support for up to three remote display units
– Configurable inputs (8), configurable outputs (8)
– Power monitoring (kW h, kVAr, kv Ah, kV Ar h), reverse power protection, kW overload protection
– Support for 0-10 V & 4-20mA oil pressure senders
– Manual fuel pump control
– Provides comprehensive and clear indication of operation and parameters
– Provides convenient and flexible navigation of parameters
– Provides the option to mimic the main control module up to 1.2 km
– Provides flexibility for multiple installation options
– Ensures the control module can be used with the latest in modern electronic engine technology
– Ensures additional applications are easily integrated into the system
– Allows the fuel tank to be filled to provide reassurance of system operation
The modules can be easily configured using the DSE Configuration Suite PC software. Selected front panel editing is also available.
To read the technical documents, please click on the link below:
To contact customer support, please call +33 (0) 492 38 88 20 or send an email to
support@dsf-tech.com
.