Genset applications
The easYgen-3000 Series are control units for genset applications. The numerous inputs and outputs, along with a modular software structure, permit you to use the easYgen-3000 Series for a wide range of applications. This includes stand-by, AMF, peak shaving, import-export, cogeneration or distributed generation, among others.
Many applications
Also the easYgen-3000 Series is compatible for isolated, island parallel, mains parallel and multiple unit mains parallel operations. The easYgen-3000 Series is able to control up to 32 gensets connected in a network with automatic sequencing.
LS5 Compatibility



The LS-5 series is designed for complex power management applications. Up to 16 LS5 can be operated on a network of 32 easYgen-3400/3500. Automatic synchronization of the time and date between the LS5 and the easYgen-3400/3500 is also possible. It can also be controlled remotely via the CAN or RS-485 interface.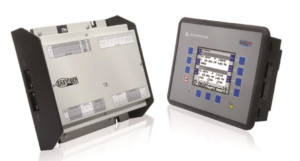 – Provides full connectivity of up to 16 Woodward LS5 series controllers for complex power management applications with multiple mains and bus tie breakers,
– Integrated Generator Group breaker CGB control,
– Run-up synchronization, automatic segment control, master or slave control capability,
– Load sharing and load-dependant start/stop for up to 32 units.
– Power supply: 12/24 VDC (8 to 40 VDC)
– Intrinsinc consumption : max. 19 W
– Ambient temperature (operation): -20 to 70 °C / -4 to 158 °F
– Ambient temperature (storage): -30 to 80 °C / -22 to 176 °F
– AMF operation,
– Cogeneration (CHP),
– CANopen/J1939 control,
– Fast configuration by partial settings files,
– Open/closed transition.
These controllers are also available without display, in a rugged metal housing suitable for back panel installation. A remote panel (RP-3000) can be used for visualization/control purpose in this case.
To read the technical documents, please click on the links below:
To contact customer support, please call +33 (0) 492 38 88 20 or send an email to
support@dsf-tech.com
.