Easy configuration



The modular design of the EHPC allows custom configuration to the requirements of work force and race. Bore diameters and standard strokes are also available. The EHPC can be used with linear travel from 51 to 305 mm and applications up to 11.12 kN. On existing applications, the EHPC can directly replace the existing valve system.
Reduced costs



This solution reduces the cost of repairing ervos in place, eliminates the need for spare parts from obsolete equipment and reduces the time and difficulty of calibrations.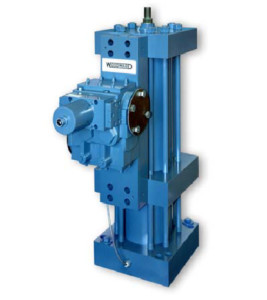 – Position the turbine steam valves
– With double or single effect
– Single integrated unit: electronic position feedback, relay / pilot valve, power cylinder actuator
– Variable stroke and working force
– Operates on wide range of oil supply pressures
– One source for control system components, mechanical and electrical
– Input voltage: 24VCC +/- 10% at 2A
– Input signal: Integral input signal of 20-200mA (100mA null)
– Return position connection EHPC: 4-20mA, 20-4mA, 0-10VCC or 10-0VCC output signal for minimum to maximum cylinder position
The low price of total installation of this combination results from the wiring and checks completely made at the factory. This greatly reduces manufacturing and verification time at the OEM user. For OEM or final users, EHPC offers the ultimate element of the Woodward control system. You have a fully integrated control box, delivered by a single supplier.
To read the technical documents, please click on the links below:
Technical description
Installation manual
User manual
To contact customer support, please call +33 (0) 492 38 88 20 or send an email to
support@dsf-tech.com
.