EPEC 2020
The 2020 Control Module is a general purpose electronic control unit (CANopen compatible ECU/PLC) for machine control systems with a special optimised I/O interface for the hydraulics controlling. The control unit can be conveniently mounted close to hydraulic block, etc. allowing short connecting wires to be used. It also makes installing very easy on the machine manufacturers assembly line.
Programmable
Simple interaction and usage of a machine are key elements in any machine application. Freely programmable graphical user interface provides an opportunity to maximize machine usability and efficiency. With a 5,7" TFT display size, the 2040 Color Display is an ideal solution for heavy-duty applications like mining machines, excavators, forest machines, wheel loaders, etc.
Interfaces
Fully enclosed aluminum housing provides water and dust proof operation according to IP66. The 2040 Color Display is equipped with two CAN bus interfaces, a hardware configurable serial interface (RS232/422/485), an Ethernet and USB interface via AMPSEAL connectors, thus allowing the display to be connected as an integral part of the embedded machine control system.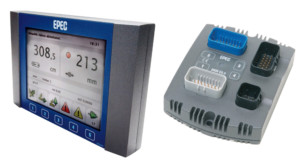 – Economical and easy way to construct hydraulic controlling, even for the most challenging conditions and environments
– Together with other CAN bus based control units, the 2020 Control Module forms a complete control system for all machine functions
– PLCopen applications are first developed and debugged with CoDeSys programming tool that runs in a normal Windows environment
– CoDeSys is the leading IEC61131-3 graphical programming environment in the market
– Ethernet can be used to connect the machine to higher level information systems, such as databases for monitoring production, enterprise resource planning (ERP), etc.
– Fully programmable display unit and CODESYS Visualization makes programming very easy
– Graphical windows tool can be used to design display gauge meters, icons, buttons, texts, etc.
– Typically the display application may have several tens of windows, and is used to adjust and store system parameters, application back up copies, system event logs, etc.
Very typical application for this type of a module is boom controlling, in which accuracy and flexibility are key issues.
To read the technical documents, please click on the links below:
Technical description
Installation manual
User manual
To contact customer support, please call +33 (0) 492 38 88 20 or send an email to support@dsf-tech.com.