EPG Range
The EPGs are three-component governing systems for 12 or 24 VDC operation. All EPG systems include an actuator, an electronic speed control, and magnetic pickup. Isochronous electronic controls are available with either start-fuel limit or with switch-selected dual dynamics.
Many devices
Droop controls are available for certain types of parallel generator application. The load sharing devices are available for use with the isochronous models used in paralleled applications. The selected EPG actuator is mounted on the prime mover and mechanically linked to the fuel control.
Gain & stability
In operation, the control compares the speed of the engine with the desired speed or desired load and sets the actuator position to correct discrepancies.
Gain and stability adjustments tailor the governor's response to the specific engine.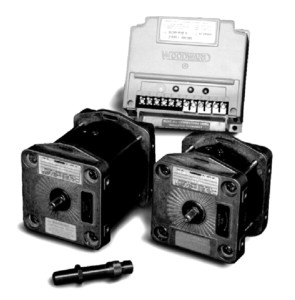 – No mechanical drive or hydraulic supply required
– Up to 2.3 J (1.7 ft-lb) available work
– Accepts load sharing accessories
– 12 and 24 volt operation
– Single phase droop or isochronous control
– Switch-selected dual dynamics
– Start-fuel limit for smoke control
– EU Directive Compliant
EPG controllers with switch-selected dynamics allow stable operation at no load and brisk response when the unit is heavily loaded. A rugged cast aluminum housing permits installation of the speed control on the engine skid.
To read the technical documents, please click on the links below:
To contact customer support, please call +33 (0) 492 38 88 20 or send an email to
support@dsf-tech.com
.