G-Line
SELCO's new G-Line Generator Protection Relays are mainly intended for use in land-based applications. The G-Line range of relays provides an efficient solution in applications where cost of materials is the main issue. Despite a low cost, the G-Line relays still provide a number of ground-breaking features not presently offered by the competing relays.
Extended possibilities
The SELCO G-Line Generator Protection Relays are easy to install. The relays are housed in a compact enclosure for DIN rail mounting or fixation by two ordinary screws. The design matches that of the well proven SELCO T-Line product range.
Many advantages
The SELCO G-Line Generator Protection Relays provide the optional feature of advanced PC based configuration (using a standard ANSI terminal). An optional programming kit (G0100) will allow the user to reconfigure the function of the relay, as well as the minimum/maximum scales of the dials.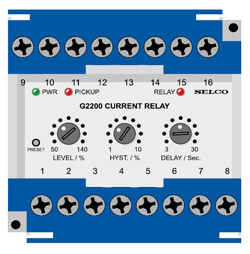 – 3 phases overcurrent,
– Revers or forward power,
– Phase-Phase or Phase-Neutral,
– Adjustable trip level, time delay and hysteresis.
– LED based indication of relay status,
– Optional external reset with latch function,
– Optional PC based configuration (RS232).
G-Line relays are single function units. The single variant principle is an advantage, as one version covers all voltages.