High Tech Line
These modular protection devices for low voltage, medium voltage and lower high voltage level (LV, MV, HV) have numerous and complex protection functions.The protection range includes basic time overcurrent protection, machine protection to high-grade differential protection.
Complete unit
Alongside relays with single protection functions, relays with combined protection functions are available. Devices are designed for door mounting, either in separate housings or in 19" racks. For back panel mounting an adapter is also available.
"Plug-in" technology
Thanks to their "plug-in" technology with automatic short-circuit mechanism for the current inputs, the relays can be changed during operation. LEDS and an alpha-numerical display show clear text indication of measuring, setting and fault values and allow intuitive operation.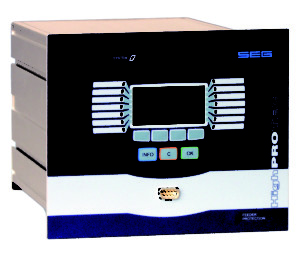 – AS9U3 aluminum injection molded body and treatment by impregnation
– Protective cover in PA66,
– Power supply cable of 200 cm
– Water inlet and outlet 5/8 " (16 mm)
By means of the standardised interface, coupling to your SCADA system can be achieved.
To read the technical documents, please click on the links below:
Technical description
Installation manual
User manual
To contact customer support, please call +33 (0) 492 38 88 20 or send an email to support@dsf-tech.com.