IMA 315 Portable 3-Phase Power Test Simulator
IMA315
IMA315 is a 3-phase current simulator in the Megacon range of transportable test equipment. This unit is designed for general testing of Megacon's or other brands range of protective guards and controllers for generator and power plant automation systems (current, current differential, overcurrent and short circuit, active (kW) and reactive (VAr) power, etc).
Multiple input supply voltage
IMA315 has multiple input supply voltage range from 100VAC and up to 690VAC and individual current output, 0-3A & 0-15A for each phase (R – S – T).
Sequence indicator
The phase sequence indicator shows that current outputs have correct sequence. If LED's shows incorrect, please change your input wiring.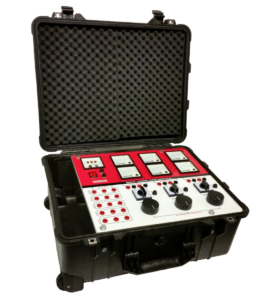 – 100-120V
– 200-240V
– 380-420V
– 440-480V
– 660-690V
–  30-70Hz
– 0-3A, 7,5VA
– 0-15A, 80VA
– Height: 264, Width: 455, Depth: 560
– 29 Kg
All current outputs are galvanically isolated from the mains supply. IMA315 Unit have a cos phi factor of app. 0,75.