Indicator Panels series
The M4500, M4600 and M4700 Indicator Panels are intended for status indication of any process providing on/off outputs. The panels contain 6, 8 or 20 channels, respectively. An input through a dry contact will light the corresponding LED. 
Several versions available
These panels are an ideal solution for local or remote indication of the output signals from, for example, a PLC or from alarm monitors such as the M1000. The 20 channels M4700 are available in a version with built-in alarm and siren relays. M4780 is a versatile 20 channel indicator panel which can be used for monitoring of dry contacts and signal states transmitted through a common 2-wire RS485 communication bus using the MODBUS-RTU protocol.
Effective cost
M4780 can also work as an alarm monitor using two internal relays for group alarms and control of an external siren. An internal siren for local use is integrated. Via the MODBUS-RTU a PLC can read the state of the LEDs and the inputs on the M4780. This feature makes the M4780 a cost effective 20 channel digital input device with indications in PLC systems.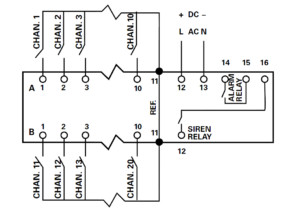 – Voltage supply: 24VDC +/- 25%
– 6 inputs available
– Operating temperature: from -10°C to +70°C
– Extra push-button: 250VAC, 0.5A
This unit is a combination of a traditional indicator panel with dry contact inputs and a MODBUS indicator panel.
To read the technical documents, please click on the links below:
To contact customer support, please call +33 (0) 492 38 88 20 or send an email to support@dsf-tech.com.