M8100
The M8100 Synchroscope provides illuminated indication of the phase and frequency difference between voltages on two separate AC systems, e.g. a generator and a busbar. The M8100 will also indicate whether or not the two systems are on voltage.
Built-in relay
The M8100 is also available in a version with a built-in relay for automatic closure of the circuit breaker. The voltage and frequency are adjusted by the operator to roughly match the values required, and the unit will provide a closing signal to the circuit breaker at phase accordance.
Control & monitoring
The M8100 is part of the SELCO series of modular units for protection, control and monitoring of generators, both in marine and land-based applications.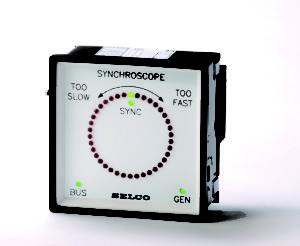 – Maximum voltage: 660V
– Voltage range: 70-110%
– Consumption: 2 x 3VA max.
– Frequency range: 35 – 70 Hz
– Operating temperature: from -20°C to +70°C
The M8100 is type approved by major marine classification societies.

To read the technical documents, please click on the links below:
To contact customer support, please call +33 (0) 492 38 88 20 or send an email to support@dsf-tech.com.