Communication link
Magnetic Pickups are the communication link between your engine and our electronic governor control. The MPU is installed next to a drive shaft gear made of a material which reacts to a magnetic field.
Engine speed
As each gear tooth passes the MPU, the gear interrupts the MPU's magnetic field and this produces an ac signal which corresponds to engine speed. This ac signal is wired into the magnetic pickup inputs on the controller.
A complete range
A complete range of speed sensors is available in different lengths of cable, different types of connections and different sizes.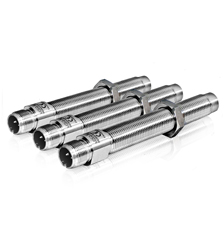 – Thread Sizes:
SAE (5/8 – 18 – UNF – 2A),
SAE (3/4 – 16),
– Metric = (M – 16 x 1.5 g),
– Insertion Depth: Various lengths,
– Connection: Open leads – MS connectors.
The magnetic sensor is the ideal means of measuring motor for electronic controller.
To read the technical documents, please click on the links below:
Technical description
Installation manual
User manual
To contact customer support, please call +33 (0) 492 38 88 20 or send an email to support@dsf-tech.com.