Q2C
The Q2C wiring solution reduces wiring time by at least 80% whilst also ensuring error-free installation. With the Q2C wiring solution, you can quickly and easily connect Intergra Ci5 Digital Metering System (DMS) and 3-in-1 current transformers.
Fast installation
The Q2C wiring solution provides simple yet fast installation utilising plug-in connections and pre-cut wiring looms, which allow the installer to easily connect the digital meter and the current transformer to the incoming or outgoing supply.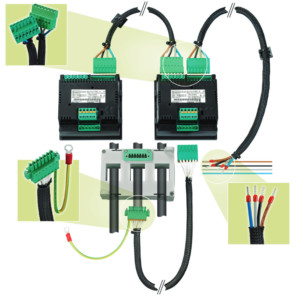 – Voltage in and out connection,
– Pulsed and RS485 Modbus RTU fitted as standard,
– Programmable CT ratio,
– Self powered, no need for additional auxiliary supply for screen display operation.
The Q2C is a complete wiring solution with integral connectors and earthing.
To read the technical documents, please click on the links below:
Technical description
Installation manual
User manual
To contact customer support, please call +33 (0) 492 38 88 20 or send an email to
support@dsf-tech.com
.