SH70E
Our monitor is designed for the most extreme applications. With its IP69K protection rating, it is resistant to high pressure cleaning, dust and shock.It can be used on vehicles with open cabs.
Easy-to-use
Its touchscreen and its sensitive keys make its use very intuitive and simple. Equipped with a 7″ Quad IP69K Waterproof Display, this monitor provides an image display that can be adjusted horizontally, vertically and mirrored.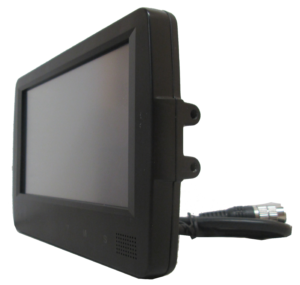 – Operating range: 10 ~ 32VDC
– Trigger lines: when a line is active, the corresponding camera image is automatically displayed in full screen mode
– Automatic backlight and brightness control
– Easy installation and practical use, with innovative functions
– Display format 16/9
– 4 video inputs and 4 audio inputs for cameras
– Video Format: MPEG
Designed to facilitate the control of industrial vehicles, the monitor can switch automatically from one camera to another depending on the maneuver performed. Among our cameras, we propose the model SHCMWD. Its next-generation wireless communication system allows it to be placed in the back of a vehicle without wiring (except power supply), thus saving a lot of set-up time.
To read the technical documents, please click on the links below:
Technical description
Installation manual
User manual
To contact customer support, please call +33 (0) 492 38 88 20 or send an email to
support@dsf-tech.com
.