SH90T
Our SH90T monitor is ideal for viewing maneuvers with great precision thanks to its 9 inch size and high definition. Its touchscreen and its sensitive keys make its use very intuitive and simple.
Touchscreen
With a 9 "TFT-LCD color touch screen, the image can be adjusted horizontally, vertically, in mirror mode and normal display.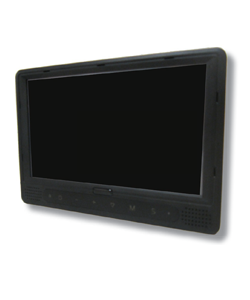 – 5 trigger lines: When a line is active, the image of the corresponding camera is automatically displayed in full screen
– Automatic backlight and brightness control
– Easy installation and practical use, with innovative functions
– Display format 16/9


– 4 audio inputs and 4 video inputs for cameras




– Video Format: MPEG
Each of our screens is designed to allow you to choose the type of camera suited to your needs. They offer total control of the most critical angles of view for the operation of the machine and the safety of people. Designed to facilitate the control of industrial vehicles, the monitor can switch automatically from one camera to another, depending on the maneuver performed.
To read the technical documents, please click on the links below:
Technical description
Installation manual
User manual
To contact customer support, please call +33 (0) 492 38 88 20 or send an email to
support@dsf-tech.com
.