SHCMOA Camera
Our SHMOA camera is designed for the most extreme applications. With its IP69K protection rating, it is resistant to high pressure cleaning, dust and shock. Its night vision, microphone and shutter make it one of the most complete cameras in the range.
Compatible
Each of our cameras is designed to allow you to choose the type of monitor suited to your needs.They offer full control of the most critical angles of view for the operation of the machine and the safety of people. Designed to facilitate the control of industrial vehicles, the monitor can switch automatically from one camera to another depending on the maneuver performed.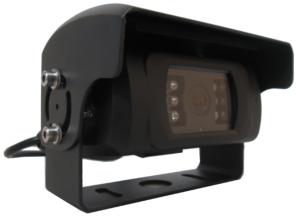 – Picture device 1/3 SHARP CCD
– System format: NTSC/PAL and resolution 512 x 582 pixels / 512 x 492 pixels
– Waterproof & WeatherResistant for outdoor use
– Automatic heating when the camera operates at a temperature
– 12 infrared night vision and high resolution LED
Our complete range of cameras and monitors is available as a kit.
To read the technical documents, please click on the links below:
To contact customer support, please call +33 (0) 492 38 88 20 or send an email to
support@dsf-tech.com
.