SPM-A
Woodward's SPM-A Speed and Phase Matching Synchronizer provides automatic frequency and phase matching when used with 2301, 2301A, and Electrically Powered Governor (EPG) electric load sharing control systems.
SPM-D
The SPM-D10 is a microprocessor-based synchronizer designed for use on three phases AC generators equipped with Woodward or other compatible speed controls and automatic voltage regulators.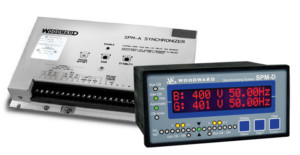 – Automatic synchronization of generators
– Adjustable dynamics
– Frequency, phase, and optional voltage matching
– Selectable matchup time
– Automatic breaker closure
– Selectable output impedance
– Synchronization for one circuit breaker
– Frequency, phase, and voltage matching
– Selectable types of control output
– Digital display of generator and bus values
– Microprocessor technology for flexible and reliable operation
– Wide range power supply available
– UL & cUL Listed
– CSA certified
To read the technical documents, please click on the links below:
Technical description
Installation manual
User manual
To contact customer support, please call +33 (0) 492 38 88 20 or send an email to
support@dsf-tech.com
.