Tecjet
In today's marketplace, these factors play a key role in gas engine development. As engine performance advances are made, gas metering devices should be more flexible and accurate, and be used for a wide range of gas qualities, from natural gas to propane.
Applications
Meet the TecJet™ valve. The TecJet is an electronic gas metering valve for singlepoint injection. It has integrated sensors and electronics, which provide the correct gas flow under all specified conditions.
In general, a separate engine control system, like the EGS-01 control, calculates the desired gas flow from the different engine and gas parameters.
Fast respons
The microcomputer inside the TecJet valve converts the desired gas flow signal and gas parameter information into a valve position (which corresponds to the desired gas flow), depending on gas inlet pressure, gas temperature, and the pressure difference across the valve.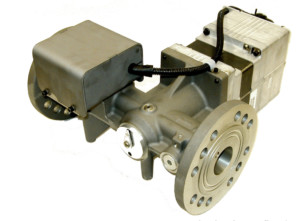 – Forms ideal combination with EGS-01 control
– Microprocessor based mass gas flow control
– Communication in two directions by CAN bus
– Fast response to flow commands
– Accurate over entire flow range
– Compensates for gas pressure and gas temperature fluctuations
– Integrated sensors and electronics
– Require only analog or digital desired gas flow signal and supply voltage
You'll be able to configure the Tecjet for you application with your computer PC.
To read the technical documents, please click on the links below:
To contact custumer support, please call +33 (0) 492 38 88 20 or send an email to
support@dsf-tech.com
.